"The shipping sector is the lifeblood of global trade, accounting for approximately 80 percent of all trade, with further growth expected. The sector also represents about 3 percent of total CO2 emissions—an amount that, if unchecked, could rise by as much as half by 2050. Finding industry-wide solutions is challenging, given the varied and complex nature of the sector"
– McKinsey Sustainability
It is clear that the shipping industry will have to make major efforts to make cargo transport as "green" and efficient as possible in the future. In other words, how can the sector reduce carbon emissions per ton of cargo per nautical mile to a minimum?
For this reason, we are monitoring new developments in ship design, underwater paint systems and new types of propulsion systems in combination with new types of fuel. Biofuel, LNG, and even nuclear installations are all being studied, and, the storage of electrical power on board is another area with elevated potential.
To increase the efficiency of vessels and therefore minimize fuel consumption for each voyage, VWSG has entered into a partnership with NAPA fleet intelligence. This is a cloud based solution that looks at ship characteristics  and weather conditions to improve ship efficiency and safety.
VWSG is also investing in ultra-modern underwater coating systems to keep vessels as clean as possible and hence the water resistance as low as possible. All this to keep the impact of our vessels on the environment as low as possible.
Our vessels are all equipped with modern Water Ballast Treatment systems and we follow very strict procedures for handling all ships waste.
In September 2022, VWSG became a board member of the Green Business Club (GBC) Fascinatio, Capelle aan den Ijssel, a local impact organization committed to achieving results by initiating sustainable projects. It brings together large enterprises, SMEs, government institutions and centers of expertise in Energy, Mobility, Water & Green and Waste & Circularity teams, where projects are developed and best practices shared.
VWSG has implemented the following sustainable projects in its onshore activities and offices: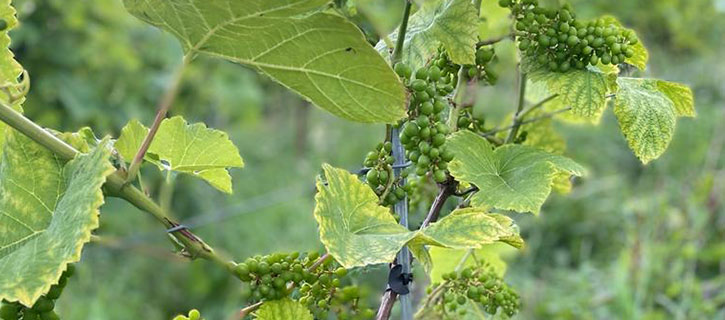 We are investing in green energy by installing solar panels on our roof (2022).
All new company cars are zero-emission.
We have planted an organic vineyard behind our office building. In 2020, VWSG became founding partner of Stichting Sjatoo010. This foundation is responsible for running the vineyard and producing wine with the help of local volunteers. A beekeeper has placed beehives in the vineyard, which has an extremely beneficial impact: the local bee population and biodiversity in general are flourishing.
We have created a green roof on our carport to provide shading, thermal mass and insulation.
Throughout its history, the Van Weelde Shipping Group has been involved in charity fundraising as a matter of course. The company regularly supports all leading Dutch charities, such as the Prinses Maxima Foundation, as well as various international initiatives.
VWSG's biggest charitable contribution in the Netherlands goes to the Palletier Foundation in Capelle aan den Ijssel, which the company is supporting on an ongoing basis. The charity's work includes running the Pallieterburght. This state-of-the-art facility provides nursing and palliative care for children who are seriously ill, in partnership with the Erasmus MC-Sophia Children's Hospital.
Toys for the Philippines: Since establishing a ship management company in Manila in 2001, the company's presence as an employer has benefitted both Filipino crews and the wider population in the region. For many years, VWSG has been collecting toys in the run-up to Christmas and other public holidays. A veritable mountain of toys is regularly shipped to the office in Manila, then distributed to numerous children by company staff.